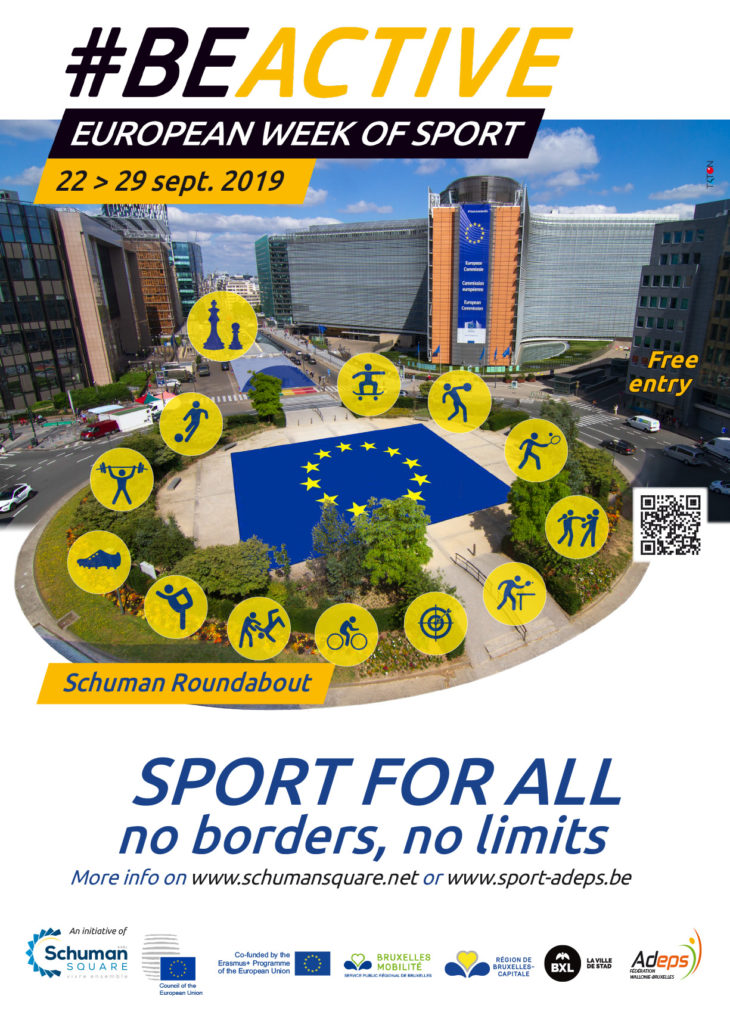 Sport for all — no borders, no limits
One week of collective well-being on Schuman Roundabout
22–28 September
A GREAT PREMIERE
From 22 to 29 September, the Schuman Roundabout in the heart of Brussel's European District will be transformed into a vast multi-sports centre for all.
We invite you to come along, to discover and participate in these days of collective well-being, with activities including: basketball, rugby, martial arts, yoga and relaxation, fencing, chess, dance and many other surprises.
For one week every year, the European Commission, under the Erasmus+ program, launches a campaign to promote sport in 41 countries. The Commission oversees a vast network of partners and associations, which actively convey the message of "sport and well-being" and motivate all citizens to engage in physical activities.
For this week, the Schuman Square Association and its partners will install a multi-sports ground on the Schuman Roundabout and an impressive marquee over the esplanade on Rue de la Loi. Being very conscious of sustainability, the entire floor will be covered by recyclable vinyl in the colours of the European flag.
These temporary installations will provide an area for sports enthusiasts of all disciplines, ages, physical abilities and nationalities to come together, with sport being their common ground.
Among other activities, this includes Finnish boot-throwing, the Baltic states and their passion for basketball and chess, a diverse range of martial arts and their champions, the Celtic nations and cricket, the promotion of yoga as a complement to sport, Bollywood dances, China's millennia-old sporting traditions, the Beau Vélo de Ravel, fencing or the art of touching with a bladed weapon, salsa and Zumba.
With the initiative taken by Schuman Square Association, the week's activities have been made possible by close collaboration with ADEPS and its members, the City and Region of Brussels municipalities, the neigbouring European Institutions and others present in the neighbourhood.
#BEACTIVE